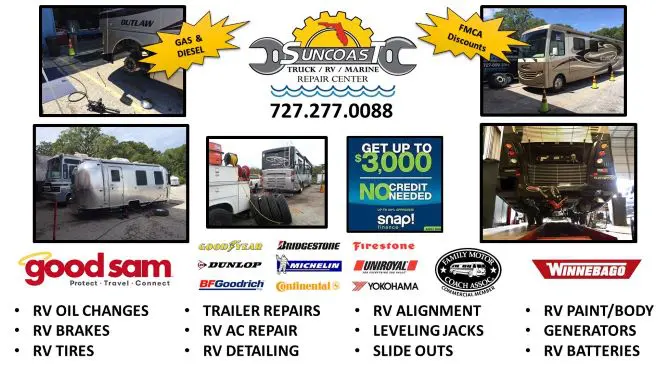 New hands-off RV ownership experience!
At Suncoast Truck & RV Repair Center we know finding a mechanic who specializes in RV/FLEET PREVENTATIVE MAINTENANCE is often difficult.
Keeping your RV and FLEET VEHICLES SERVICED prevents valuable downtime and costly repairs down the road. When we perform PREVENTATIVE MAINTENANCE on your vehicle, we will look for items that are worn and need attention. Some of the things we look for include:
Suspension and Steering Issues or Worn Parts, such as bushings, gearboxes, shocks, springs, struts, tie rods and more.

Brake System Issues and Parts, such as Brake Pads, Rotors, Calipers, Drums, Shoes, Wheel Cylinders and Seals, along with brake lines and hoses.

Worn Engine Belts and Hoses.

Irregular Tire Wear and Alignment Problems.

Oil, Transmission, and other fluid leaks.

Fuel Filters and Vehicle Fueling Options available.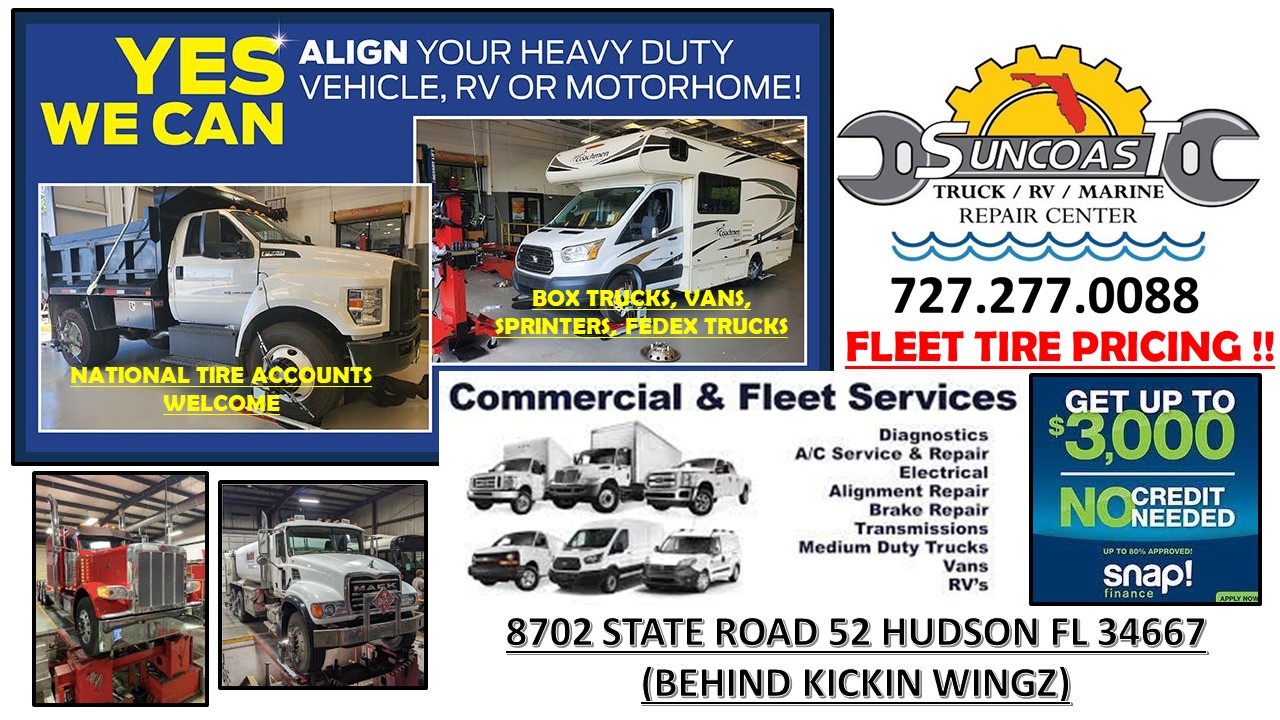 Our PREVENTATIVE MAINTENANCE SERVICES include:
Oil and Filter Changes along with Full Grease Jobs for Chassis

Alignment Services and Tire Pressure Checks

Fluid Flush and Level Checks

Drain Water from Tanks and Fuel/Water Seperators

Air Filter Changes (as needed)

AC Evac & Charge - along with Diagnosis

Tire Changes & Brake Jobs (as needed)

Pre Trip Inspections & Post Trip Inspections and Storage
At Suncoast Truck & RV, we understand having your RV or Fleet Vehicle down means either your Company is not making money or your Valuable Family Time is being taken away from. We do our best to prioritize your PREVENTATIVE MAINTENANCE SCHEDULE to keep your vehicle on the road as much as possible. In the event repairs are advised upon or needed we strive to get your vehicle back on the road as quickly as possible without sacrificing quality of parts or workmanship. Call us Today to discuss how we can put together a maintenance plan for you.